With the arrival of our new frame 'Mr Wooden' only a couple of months away, and pre-orders now open online HERE, we thought it would be useful to put a post together documenting how we built our prototype… and how you can build yours.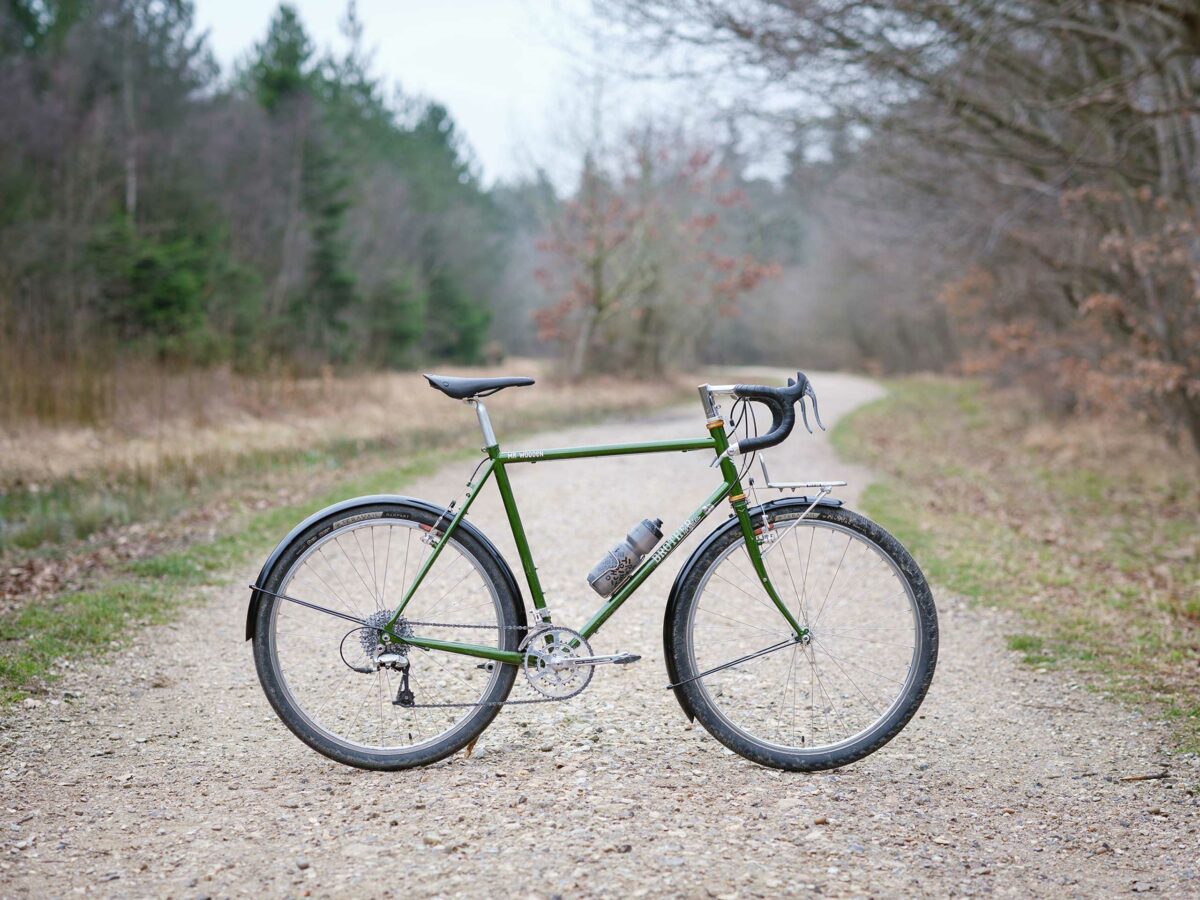 The idea behind Mr Wooden was to create a frame that is not only great to ride, but also compatible with more classic/traditional bike components, ones we enjoy using and don't want to see disappear – such as threaded bottom brackets, rim brakes and quick release axles. And we know that many of you, like us, will have perfectly good components gathering dust somewhere which have plenty of life left in them… which can find a new home on Mr Wooden.
However, there are also plenty of good options out there for any new components you need to buy. The process of recycling components you already have, sourcing new and secondhand components online and building this frame up should be an enjoyable one. We hope this article will provide some inspiration for that process and answer some questions along the way…
Wheels
The component we get most questions about, understandably so, is the wheelset. Mr Wooden is designed to run 650b rim brake wheels with quick release axles. Admittedly this is quite a niche spec for rims, however, we're adamant that this is what Mr Wooden should run. Giving the perfect mix of tyre size, reliability and flex in the frame. Although it seems like a hard product to find, there are actually a good selection of rims out there; we've listed all that we know about below. Depending on where you live, some of these may be easier to source than others – if you're struggling at all just drop us an email and we can help point you in the right direction.
Velo Orange – Voyager
Pacenti – Brevet
Velocity – Atlas / Cliffhanger / Quill
Ryde (Rigida) – Zac / Andra
Thorn – 650b Rim
Soma – Weymouth / El Nino
Crust – Rim Brake 650b
Cycles Toussaint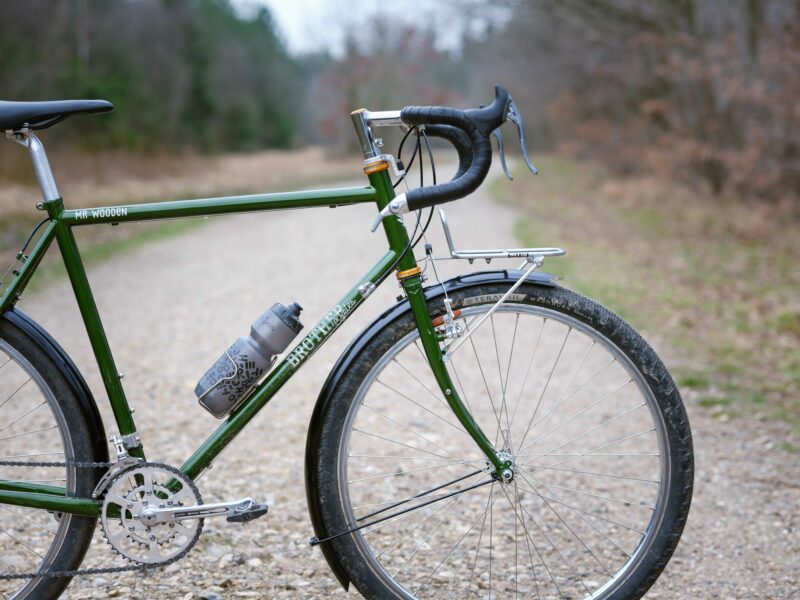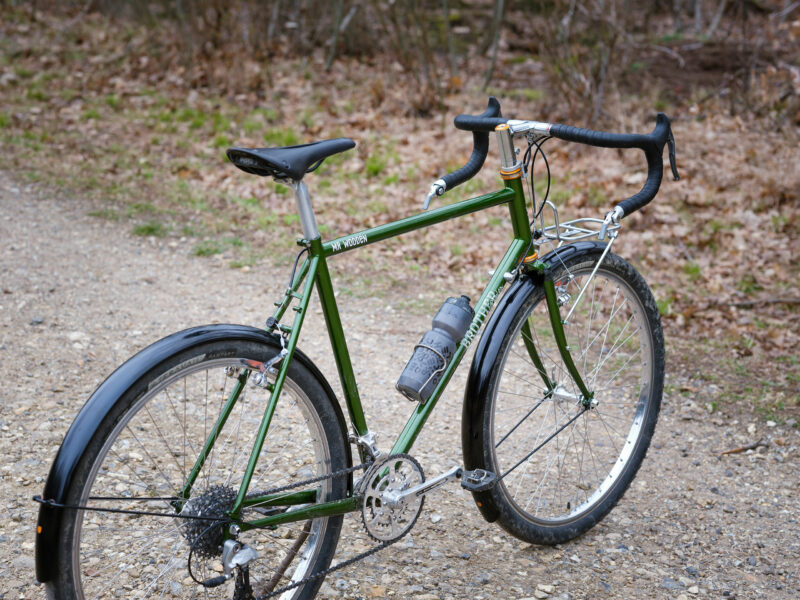 Tyres
This leads us nicely onto the tyres – Mr Wooden has clearance for up to a 650b x 50mm tyre and we feel the optimal size is probably around 47mm (equivalent to a 700c x 28mm setup). To put it simply, this makes the frame an absolute f*cking blast to ride on a variety of surfaces! Agile and fast on tarmac and nice and forgiving if you venture onto some rougher stuff. We put a mix of Teravail tyres on ours with the fast rolling Rampart on the rear and a Washburn up front which has raised outer knobs for a little more confidence in corners on loose gravel.
If you want to run mudguards you should have no problems with clearance up to a 48mm tyre – maybe more depending on make and model.
Drivetrain
You can pretty much run whatever road, touring, mtb or gravel groupset you like on Mr Wooden – with clearance for a triple chainring up front. However we found that the frame's classic styling with skinny tubes, flat crown fork and lugged seat clamp really suited something a bit more traditional. And again, this encourages the recycling of classic components with plenty of miles left in them. If you want to go fully old-school there are even down tube bosses giving the option of down tube shifters like The Woods Cyclery did on their build HERE. On our bike we chose to go with a 2 x 9 setup allowing us to utilise a bulletproof NOS Shimano M750 XT long cage rear mech – a tried and tested MTB mech from the late 1990s (readily available on ebay). We paired this with Shimano Dura-Ace bar end shifters with their wonderfully precise indexed action.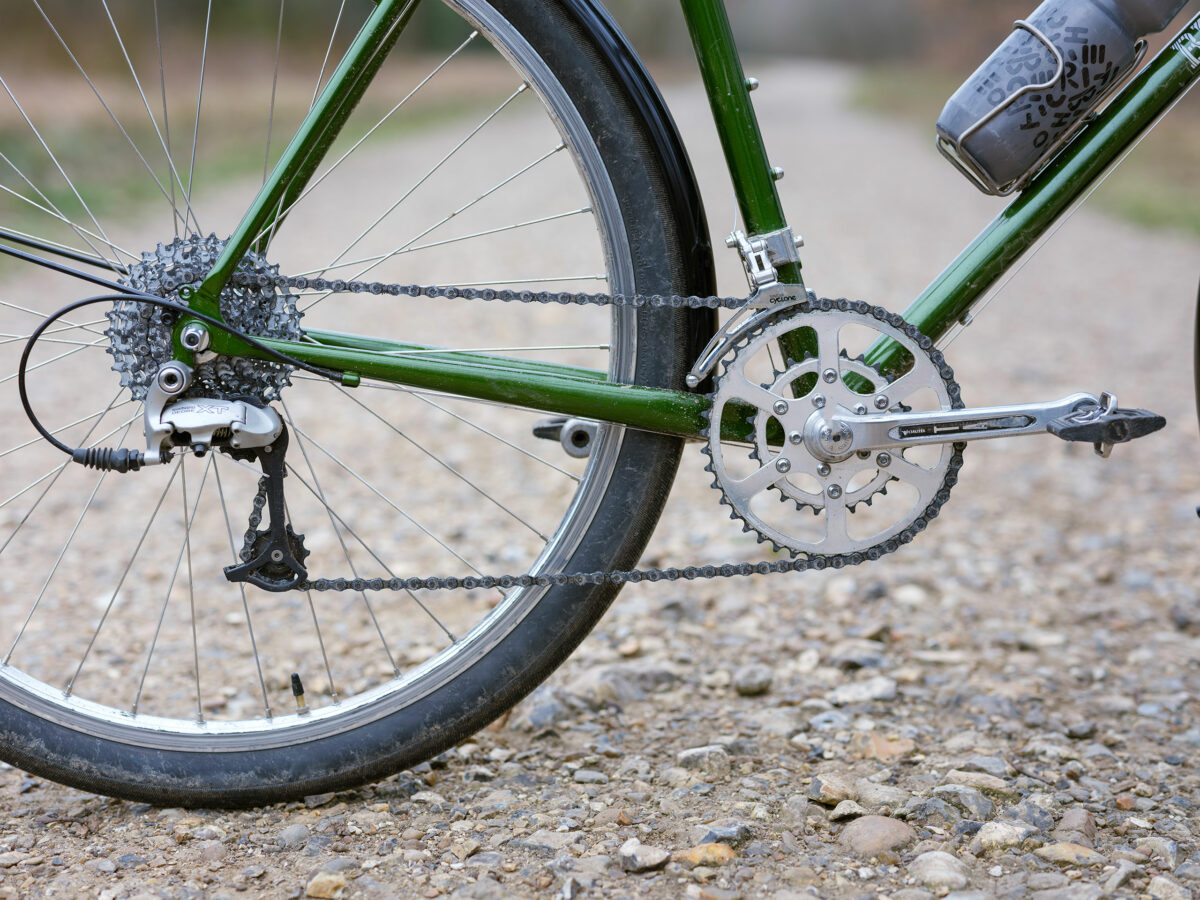 The only downside to an older rear mech like we used is it will be limited to a small cassette by today's standards, with a maximum official cog size of 34t in our case. However, we still achieved a wide range of gears by pairing with the TA Cyclotouriste chainset – you can find many second hand sets online (or Velo Orange, SunXCD, Stronglight offer similar spec brand new chainsets). The TA has a clever bolt pattern (small BCD) allowing you to fit a small inner ring (down to a 26t) and therefore achieve a really impressive gear range – we went with 44/28. I've ridden this bike on a variety of terrain from the coastal trails of Kent to the steep forest tracks in the Shropshire Hills… loaded and unloaded… and am yet to find anything it couldn't handle.
Brakes
As mentioned on the Mr Wooden product page the 'Rim v Disc' debate is a never-ending one, with plenty of discussion about it online. We're not going to get into it here, other than saying we chose to go with rim brake on the Mr Wooden as it allowed us to design a lighter and more flexible frame. Also, with the frame being able to run pretty much any cantilever or V brake out there the options for new, secondhand and recycled components is huge. We chose a fancy set of polished Paul Touring Cantilevers which are a breeze to setup and have impressive stopping power. However, you could just as easily fit a set of Tektro V brakes at 10% of the price with no problems at all – easy to setup, maintain and find replacement parts for when out on the road.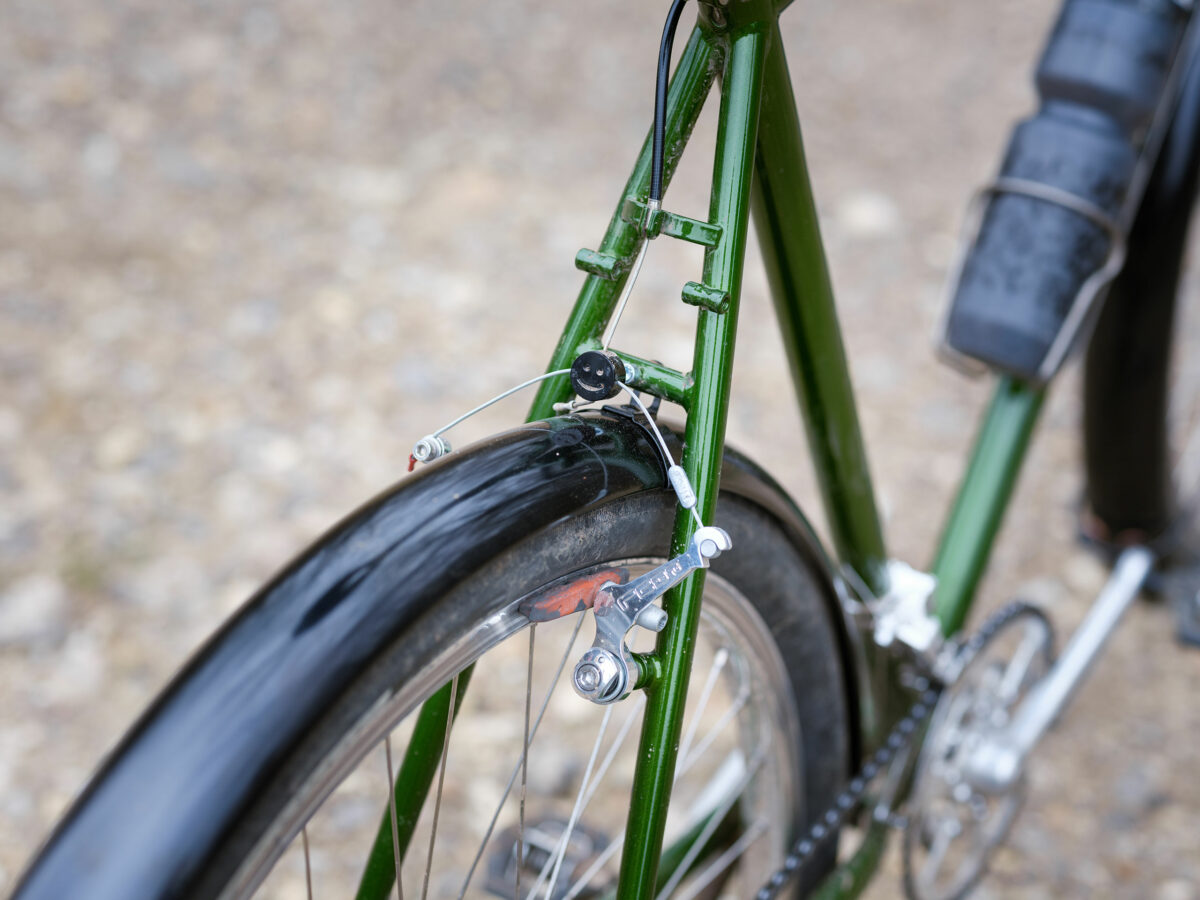 Cockpit
With a 1 1/8″ headset you can run a huge selection of stems and bars on Mr Wooden (we had considered going 1″ but options were too limited). We like running Mr Wooden with a shorter stem, wide bars and relatively level saddle/bar height to give a relaxed and upright riding style. We splashed out on a sexy Sim Works Ann Lee tall stack stem to give that quill look, but Velo Orange offer a similar more reasonably priced version. Also… so glad to find a home for those vintage Shimano 600 levers, they feel as good as they look.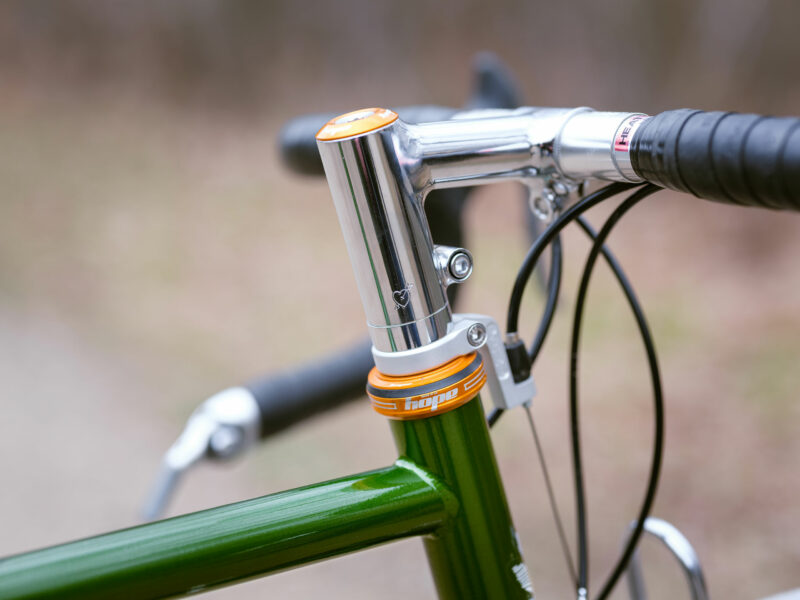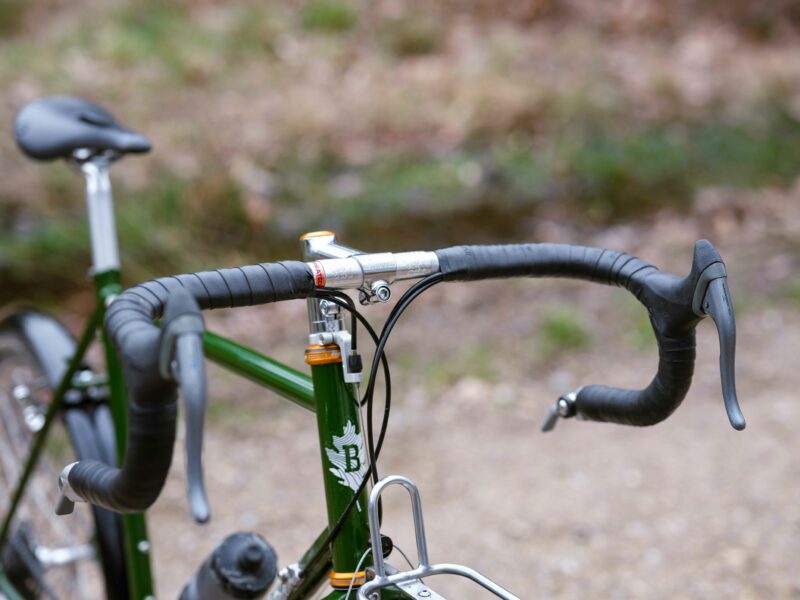 We fitted a Nitto M18 rack using the suitably placed barrel bosses on the fork. It makes a great supporter for front bags, or you could fit a Wald basket if you like. The frame's low/mid trail means it can handle weight up front no problem.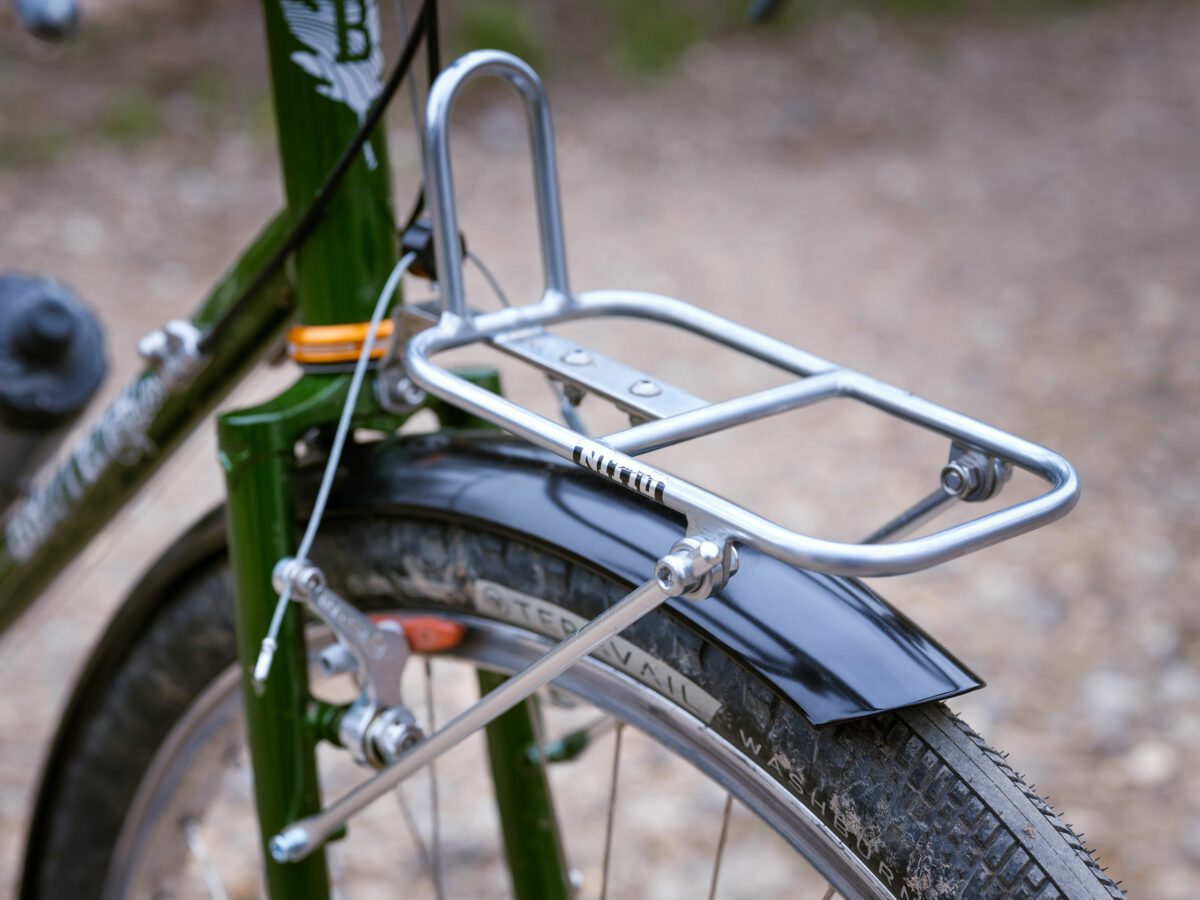 At the end of the day Mr Wooden is whatever you want to make it. We're super excited to see what people do with it, from classic light weight tourers to urban commuters or even 90s MTB inspired flat bar builds. And as nice as it is to splash out on bling components, we're probably more interested to see what classic parts people dig out of their parts bin for this one…